Schmoedown Spectacular III was the third annual Movie Trivia Schmoedown pay-per-view event, which was produced by Collider and aired on the website's Youtube channel, It was aired on December 21, 2018 on Youtube. It was the last match of Season 5 of the Schmoedown, and the last match to be aired on Collider Videos, as it was announced by
Kristian Harloff
, the chairman of MTS, that their content will be moved back to SchmoesKnow channel.
The card comprised six matches. In the main event, Ethan Erwin became the new MTS Singles Champion after defeating John Rocha via TKO by 20-17 points. In another main event match, The Shirewolves (Rachel Cushing and Clark Wolfe) retained the MTS Tag Team Championship against Who's The Boss (Mark Reilly and Ben Bateman). Other matches saw Mike Kalinowski become the new Innergeekdom Champion after defeating Mara Knopic via Sudden death. Additionally, Emma Fyffe won the first-ever commissioner bowl after defeating Harloff, Tom Dagnino and then-commissioner Thad Williams. Alex Damon retained his MTS Star Wars Championship after defeating Ken Napzok. Also in the number one contender's match, Dan Murrell defeated Clarke Wolfe and advanced to New York live-pay-per-view to face Erwin for the Singles Title.
The event saw some huge revelations including Team Action breaking up after an assault by Andrew Ghai on his then-partner Ben Bateman. Furthermore, Matt Knost announced his retirement, while the event saw Robert Meyer Burnett returning from hiatus. Most notably, Paulie G put an end to the dominance of ''Korruption'' under the command of his mysterious employer.
Production
Edit
Background Edit
Schmoedown Spectacular is considered as Movie Trivia Schmoedown's flagship event. The event was the third Spectacular to be held in the state of California, which previously hosted Spectacular I and II in 2016 and 2017, respectively.
The official theme song for the event was "" (by ). On December 18, 2018, prior to the start of Spectacular, Mark Ellis and Kristian Harloff appeared in a special episode to discuss the matches and predict the outcomes With Harloff, revealing that he will be announcing new plans for season 6 at the end of the third video of the event.
Storylines Edit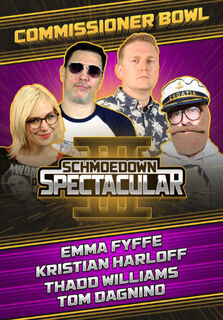 The event began with a Fatal 4-Way match for the highest position in the Movie Trivia Schmoedown: Commissioner. The Commissioner Bowl was between Thadd Williams, Kristian Harloff, Tom Dagnino, and Emma Fyffe. The foundations for this matchup began during the Ultimate Schmoedown Anarchy Team Tournament. Right after KOrruption was eliminated in the Semifinals by the eventual winners Who's The Boss, Mike Kalinowski made a last-ditch command to Commissioner Thadd Williams to make the Team Championship match a triple threat with KOrruption, the winners of the Anarchy Tournament, and the champs The Shirewolves. Thadd, after being convinced by Brianne Chandler to stand up against Kalinowski, stood his ground and refused. After that, Kalinowski was told by his co-conspirator and top lawyer Paulie G. to "execute the plan" in an act of rebellious suppression. That was to leak every dark secret of Thadd against his will unless he puts his title of Commissioner on the line against the man who sought to return to the position he once left: Kristian Harloff. Forced to keep them safe, he pleaded to the Chairman himself Kristian Harloff to face him for Commissionership. Despite suspicions of this offer, Kristian accepted the challenge. Brianne, on the other hand, was very suspicious. She threatened Thadd that unless he puts Tom Dagnino in because their agreement was fulfilled with the number of patrons signed up, she and her new Union (formed to combat KOrruption's) will walk out of the Spectacular. Now faced with two dangerous scenarios, Thadd Williams had no choice but to accept Tom but also invited Emma Fyffe to compete in this match to ensure that he does not win.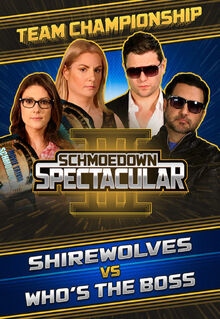 Next, the tag team match was being considered at the most hyped match of the event. The origins of this epic matchup go all the way back to the beginning of this season in January. Soon after Rachel Cushing defeated JTE and Mike Kalinowski in the #1 Contender Triple Threat match, it was announced that she has formed a superteam called ''The Shirewolves'' with Clarke Wolfe as her partner. They would later team up with manager Emma Fyffe and her prospects Marc Andreyko and Sam Witwer as The Fyffe Club. They made their debut with a victory over their enemies The Lion's Den (with Tom Dagnino and KenNapzok), then won their next match against Team Action at the live event, and became the #1 Contenders with a TKO win over The World's Finest. But before they could compete against Above The Line (Samm Levine and Drew McWeeny. On 16 July 2018, Samm Levine announced that he was retiring and vacating both the singles and teams belts (with McWeeny's approval), stating that he has done everything he could possibly do in the game. Instead, they competed against the Free 4 All winner Brianne Chandler and her partner Bryan Bishop in the open championship match. That match ended as Shirewolves won the titles via 4th Round KO, setting themselves up to defend the titles against the winners of the Anarchy Tournament. The Shirewolves appeared as the most consistent superteam with an accuracy of nearly 89% and had a long road to the belts than The Patriots, with four matches before their title match. The same number of matches Above The Line had before their first title match. When the corruptor Mike Kalinowski and top lawyer Paulie G. decided to violently shake up the Schmoedown Teams Division with Anarchy, many were shocked by the new teams could come from the drawing. Then, after the announcement of Anarchy tournament on 14 July 2018 by then-commissioner Thad Williams, it was made clear that teams for the upcoming team tournaments will be drawn randomly. One of those new teams was a completely random one with Ben Bateman of Team Action partnering up with Mark Reilly of The Five Horsemen, with Tom Dagnino/Finstock as their manager. Then, they got their victory over ''The Crazy Eighty-Greats'', and their chemistry continued to improve with every subsequent victory in the tournament, with their wins over ''Cinemaniacs'' and ''KOrruption''. Then in the Finals against ''The Harris Brothers'', their team chemistry reached perfection with a 3rd Round KO to face The Shirewolves for the titles at Spectacular III. It became the first time Reilly and Wolfe had to face each other after their team broke up, and it was seen as an "opportunity for revenge" by Bateman, as he had lost to both Clarke and Rachel on previous occasions.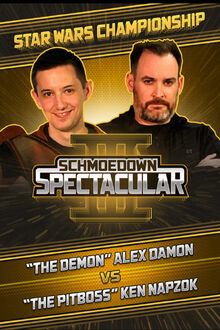 Alex Damon, known for Star Wars Explained, had to defend his belt against the former champion, Ken Napzok. Since losing the belt in an intense Iron Man match to Sam Witwer, Napzok has been accusing "the system" to have been against him and wanted a rematch. What made this matchup intriguing was s the last time they competed against each other: this last summer at June's Schmoedown live event in L.A.It was a competitive Triple Threat #1 Contender match between Ken Napzok, Alex Damon, and Joseph Scrimshaw where the winner faced then-champion Witwer for the title at Collider Collision. For all three rounds, the score was close, but Napzok was the first eliminated and Damon became the new #1 Star Wars Contender. However, Sam's manager Emma Fyffe told Commissioner Thadd Williams that he could not compete due to the new acting role he has in Arrowverse's Supergirl as Agent Liberty. With that, Thadd had to schedule an interim championship match with Damon at Collision. Enter Mike Kalinowski and KOrruption, with damaging information that held Thadd hostage. Mike forced the Commissioner to strip Sam of his title and make it an open championship match. With that, Alex Damon entered the Collision facing Bruce Greene from Funhaus and annihilating him to win the title via an unfortunate and unexciting 3rd Round KO. With that, Thadd Williams worked with Sam Witwer and his manager Emma Fyffe to get him to compete in the upcoming Star Wars Championship match at Spectacular. Unfortunately, all the high-tension negotiations between the parties were for naught because Mike Kalinowski entered the fray and tossed them all out the window. After abusing his corruptive power (via his lawyer Paulie G.) to arrange a rematch with Mara Knopic for the Innergeekdom Title, Mike abused his power again by forcing Thadd to make the title fight between Alex Damon and his KOrruption's manager Ken Napzok.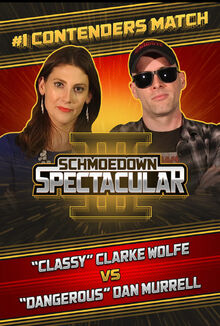 Making his second Spectacular appearance, Dan Murrell was aiming to end this season on a high note after a road of ups and downs. When he returned as part of The Five Horsemen, he went on to face Andrew Ghai, after he continually claimed that "he murdered Dan" and appeared at his slot in the 2018 Free For All. However, during that event, Murrell struggled with ring rust and could not keep up with Ghai where he eventually suffered his first loss via TKO. That loss sparked a competitive drive in him to stay and compete because there's now more for him to prove. After spending some time in his second teams appearance with Rocha in the Anarchy Tournament where they got eliminated in the 2nd Round, Murrell suited up with renewed desire for championship belt in the Ultimate Schmoedown Singles Tournament. After earning a perfect KO over Stacy Howard in the 1st Round, Dan faced Ethan Erwin who was having one of the best rookie years in the Schmoedown. He could not pull off the answers to several unfamiliar questions and fell behind Erwin's relentless consistency towards a TKO loss. However, that was not the end of his season. He was given one more chance in the #1 Contender Qualifier against Marc Andreyko, and he did not hesitate to utilize it to the upmost degree. In that match, he held onto the lead for all two rounds and won by TKO to be in this matchup at Spectacular. To get to the title match at New York City, Dan Murrell will have to face Clarke Wolfe. Again. The last time they faced off was in 2016, during the early days of his first Singles Championship reign. But the Clarke Wolfe he will face is a different Clarke Wolfe. She will be more experienced with the game, so he needs to bring his best. From this season overall, Dan had mixed results and was not performing as consistently as the competitor he was in years past. Dan needs to be more consistent and find what categories he can take advantage of in the moment. If he can play a better game plan, then he will keep this competitive. For Dan, going to New York is something that he can add to his stellar, hall-of-fame career; but it will be against a formidable and elegant competitor.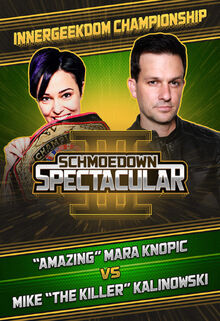 As for the Ineergeekdom Champion, Mike Kalinowski proceeded to blackmail the Commissioner Thadd Williams with newfound powers given by the mysterious lawyer Paulie G. He forced him to make an Innergeekdom Tournament not just because he believed it would enrich the division, but because he wants to win what he called "my championship." In that tournament, he defeated every competitor in his path (including two KOs) until he met Mara Knopic. Mara started playing Schmoedown at the Ineergeekdom Tournament, where Kalinawoski repeatedly approached her and asked about her status in the league. She defeated Coy Jandreau, Emma Fyffe, Rachel Cushing and finally faced Kalinawoski. In their first match with Kalinowski, it was down to the wire in the Fifth Round, where Mike had the 5-point question to finally play for the title he craved. However, he could not answer the question and Mara advanced to face Jason Inman for his Innergeekdom title at September's live event. That question Mike could not answer was what many considered the most difficult 5-point question ever given in the Schmoedown'': the names of Tony Stark's robotic arms Iron Man's armor DUM-E and U''. The question shocked Kalinawoski, and he acknowledged Mara as the better competitor. Mara attained a number one contender spot for playing against then-champion Jason "Justice" Inman at the live event. However, after defeating Inman to claim the belt, Kalinawoski challenged her for a second match at the Spectacular III, which Mara accepted. Nevertheless, Mara became a strong contender to win "Rookie of The Year" and was ready for the match. Whereas, Kalinawoski's influence on the league was getting weaker and weaker, as Thadd stood up to him and refused to take his orders, making this match the last match to be given to him by his will.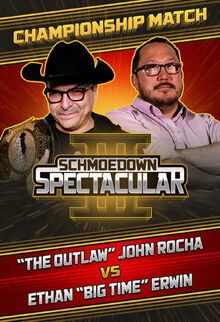 At the main event, John "The Outlaw" Rocha was up against Ethan "Big Time" Erwin to defend his belt. Since the end of the Singles Tournament. Kristian Harloff called this matchup as a harkening to the historically-famous main event in |Wrestlemania III between Hulk Hogan and Andre The Giant. One of the most popular professional wrestlers defending his Heavyweight World Championship against a relentless giant. For this main event, Andre the Giant symbolizes Ethan Erwin, and Hulk Hogan symbolizes John Rocha, and it's an analogy that truly describes this match. Two famous and powerful competitors, in the ring for five rounds to duke it out for the title.
Kristian Harloff described Ethan Erwin as the "next Dan Murrell" of this league. Back then, many did not know the impressive might Erwin had, which Harloff knew about as one of his friends. Before the Schmoedown, Ethan Erwin was a movie executive in Silver Pictures looking at ideas and greenlighting projects into production. All while knowing a lot of movies as his favorite hobby throughout his life. When he came onto the scene in his debut match against Yolanda Machado, we were swept off our feet with how impressive he was with answering movie trivia questions at a nearly-constant pace. His next appearance was in the Free 4 All where we saw his impressive endurance at getting questions right for 15 rounds. Then he was tested with Lon Harris and Drew McWeeny, where he pulled out impressive victories from those two matches. At that point, many saw that Ethan had the potential to be a future champion. His first opportunity to be in a title match came against Marc Andreyko, where it went the distance but Ethan couldn't answer the 5-point Peter Pan question which led to his first defeat. But that was not the end of the story, and after a brief stint in the Anarchy Team Tournament, Ethan Erwin joined forces with Jay Washington as his manager to power through the Ultimate Schmoedown Singles Tournament. He blazed through his two matches against Chance Ellison and Dan Murrell to face Clarke Wolfe in the Finals. It truly went the distance and tested his limits, but Ethan barely won by one pronoun to finally have his one shot at the title against John Rocha.The defining characteristic of Ethan "Big Time" Erwin is his consistency; his ability to answer nearly every movie question right. According to Frank Janisch, Ethan Erwin's accuracy is at 82%. That ranks as the 2nd best accuracy all time
As for Rocha, he made his debut in 2015 during the Ultimate Schmoedown Team Tournament. He was one of the favorite competitors of that tournament with Matt Knost as Team Top 10, but he didn't truly breakout until next year. In his singles debut against Scott Mantz, John donned the cowboy hat and the rest was history. From that match onward, Rocha became the first true superstar of the Movie Trivia Schmoedown with his aggressive attitude towards competition, achievements, and character. His approach to attacking the work in front of him gained him a lot of fans. Rocha worked hard for his first singles title attempt in both 2016 and 2017, where he finally had his title shot against then-champion Dan Murrell and won it by going the distance. However, his stint would only be brief as he got overconfident in his head and lost the title to Mark Reilly a few months later. From there on, it was a journey of ups and downs for Rocha to reclaim the singles title. From not being able to win the Collider Collision's triple threat main event of 2017, to being eliminated by the current GOAT Samm Levine in the 2017 Ultimate Schmoedown Singles Tournament, Rocha had to rethink his focus for 2018. He started this year with a determination to defeat The Lion's Den one-by-one, starting with JTE via TKO at the first live event. His next match was against Jeff Sneider where he had him for the win but could not figure out Black Philip from The VVitch.While figuring out his choices after that loss, John was given another path by the mysterious dealings of Mike Kalinowski. He would be able to go through both Team Action members Ben Bateman and Andrew Ghai to face his rival that left The Horsemen, William Bibbiani, for the Movie Trivia Schmoedown Championship. That match went through all five rounds, and Rocha was able to outlast Bibbiani to claim the title for the second time and has another chance at earning his first ever title defense in the "Grand Showcase of the Schmoedown."
The Commisioner Bowl Edit
The pay-per-view opened with Thad Williams defending his commissionership against Kristian Harloff, Tom Dagnino and Emma Fyffe in a fatal-four way format match.Prior to the match, Dagnino's mask was stolen which prevented him from appearing as his character known as ''Finstock''. The first round ended at 5-4-6-6 respectively. Then, in the second round, Emma Fyffe spun the wheel first and landed on "Musicals" category, she was able to obtain four points out of his maximum of eight. Next Thadd Williams spun the wheel and landed on "Comedies" category, he was able to obtain 4 points out of his maximum of eight. Subsequently, Harloff landed on opponents choice and was handed "Movie Taglines" by his opponents and he obtained only two points. Finally, Dagnino also landed on opponent's choice and was the category of "Scores and Soundtracks" was chosen for him, where he was able to obtain three points, ending the round with Harloff (7), Dagnino (8) and Thadd and Emma both at (12). Harloff, Thadd, and Dagnino all used their challenges before entering the third round.
The third round and final, saw the elimination of a furious Dagnino first as he wasn't able to answer any of his questions and repeatedly asking for the release dates of the movies mentioned in the questions, he left the premises after his technical knockout. Moreover, neither Fyffe or Thadd were able to obtain any points in the third round, which made way for Harloff for a comeback and he did so by getting both his two and three-pointers right tying the match with both Thadd and Emma at 12. Finally, the match ended on sudden death with Fyffe coming out victorious after being the only competitor to know the answer of the first sudden-death question which was "''After a long absence from movies, Cher appeared in which 2010 movie starring alongside Christina Aguilera?'"and becoming the new commissioner in the process.
Surprisingly, Paulie G revealed his employer which happened to be Harloff all along with Harloff stating that he is the chairman of the brand and declaring Thadd to be "powerless" and congratulated Fyffe on her win, too.
Tag Team Championship Edit
Next, The Shirewolves were up for their first defense of the title facing their challenger Who's The Boss. The first round ended 12-13 with Who's The Boss being in the lead.
In the second round, both Shirewolves and Who's The Boss came out with a perfect round after getting the Sandra Bullock and "Festival Darlings" categories, respectively, ending the round with 24-25 in favor of Who's The Boss. However, after spinning the "Pixar" category in betting round, The Shirewolves bet two points and Who's The Boss three points, and both lost all their points after answering incorrectly, with the round ending in a 22-22 tie.
In the penultimate round also known as "the speed round", The Shirewolves were able to obtain two points through Rachel Cushing, and conversely Who's The Boss lost a point after Reilly failed to answer his question in time, ending the round at 21-24 in favor of The Shirewolves. In the fifth and final round, both teams were able to obtain all points, making the score 31-34, allowing The Shirewolves to come out victorious, retain their titles and get their fifth consecutive win with no loss.
Star Wars Championship Edit
After that, Alex Damon was up for his second defense of the title facing his challenger Ken Napzok. The first round ended 9-8 with Damon being in the lead.
In the second round, Damon got 8 points out of 10 and allowed a two points steal, with Napzok obtaining 7 points out of 10 and allowing a two points steal after getting the"Star Wars: The Force Awakens" and "Star Wars: Episode I – The Phantom Menace" categories respectively, ending the round with 19-17 in favor of Damon. However, after spinning the "Rogue One" category in betting round, both Napzok and Damon bet 3 points, and Napzok lost his set points after answering incorrectly,but Damon obtained 3 points with the round ending in a 22-14 in favor of Damon.
In the penultimate round also known as "the speed round", Napzok was able to obtain a point, and conversely Alex lost two points and obtained two points ending the round at 22-15 in favor of The Shirewolves. In the fifth and final round, Napzok was able to answer all of his questions and made a comeback, but Damon won the match after answering his two and three pointers and ending the match at 27-25, whher theye successfully retained the title for the second time.
The #1 Contenders Match for The Singles Title Edit
Next, Wolfe was facing Murrell for a number one contender spot at New York. The first round ended 6-7 with Wolfe being in the lead.
In the second round, Wolfe got the category of "Coming of Age" and was able to obtain only 3 points, while allowing Murrell to steal 2 points too. At his turn, Murrell spun Fantasy/Sci-Fi and was able to get 5 points out of his 6, ending the round at 15-10 in his favor.
In the third and final round, Wolfe was able to answer only her two-point question, resulting in a TKO in favor of Dan, ending the match at 12-15.
Ineergeekdom Championship Edit
In the battle for Korruption, Kalinowski was set to win the championship against the "Amazing" one.
Their First Round ended in 7-6 in favor of Mara. In the second round, Mara spun "Who Said It?" category and was able to get 7 points out of 10, also allowing a one-point steal, while Kalinowski spun "Middle Earth" got 8 points out of 10 in the second round, and the round ended at 14-14 tie. However, after spinning the DC Movies" category in betting round, Mara bet 1 point and Kalinowski two, where both of them got the answer right, but giving Kalinowski a one-point lead.
In the penultimate round also known as "the speed round", Kalinowski was able to obtain two points, and conversely, Mara obtained three points ending the round at 18-18 tie. In the fifth and final round, both of the competitors were able to answer their two and three-point questions, but failed to answer their third leaving the result at a 23-23 tie, leading to Sudden Death.
Finally, both Mara and Kalinowski got the first two questions right, but Mara failed to answer the third question, whereas Kalinowski succeeded, making him the new Ineergeekdom Champion, with a result of 25-26.
(Main Event) Singles Championship Edit
Finally, The Outlaw was up against Ethan Erwin for defending his title.
The first round saw a close competition, with competitors only missing one question and ending the round on a 7-7 tie. In the second round, Rocha spun "Sports Movies" category and only got 4 points out of 8, also allowing a 2 points steal, while Erwin spun "Denzel Washington" got 7 points out of 8 and the round ended at 11-15 lead for himself. Next, in the betting round the category spun by Ethan was "Disaster Movies", Ethan bet 3 points and Rocha Bet 2 points, with both of them getting the amount of points to wagered, ending the round at 13-18 in favor of Ethan.
In the penultimate round also known as "the speed round", Both competitors managed to get 2 points each ending the round at 15-20 with Ethan in the lead. In the fifth and final round, Rocha managed to only answer his two-point question, ending the match in a TKO in Ethan's favor at 17-20, making him the new MTS Singles Champion.
Aftermath
Edit
The Chairman and Korruption Edit
Harloff regained control over the league after he wasn't able to command due to contractual obligations. Harloff's ownership-proof of the league was written in some unavailable documents at the time, but with Paulie G's effort the documents were made public after the Commissioner Bowl match, and Thadd was stripped off all of his authorities, further weakening Mike's position in the league.
Team Action's Breakup Edit
Despite losing to The Shirewolves, Bateman decided to stay with Reilly and part ways with Ghai. Upon telling Ghai the news face-to-face, Ghai reacted with a smile and he seemingly accepted Ben's decision and left Ben, only to come back and shockingly tackle him onto a table, igniting a feud between the two. Reilly and Tom quickly appeared and forced Ghai out of the premises with both comforting Ben, although Tom was still worried about his mask's status. This became Ghai's second physical altercations with a player, having previously tackled Rocha at Spectacular II, and injuring his back.
Matt Knost's Retirement Edit
Matt Knost announced his retirement from competing, stating that he will "be watching and contributing on the sidelines" and bid farewell with his famous funny-dance. This decision came after Matt was frequently absent from his stable's gathering during/before the Spectacular. Although, Rocha was teasing a potential replacement by stating that he "is willing to take applications for his faction.''
Robert Meyer Burnett's Revival Edit
After a brief appearance in the 2018 Free 4 All, Robert Meyer Burnett returned to the Schmoedown on mysterious terms. Dagnino's mask was revealed to be stolen and burned by him in the post-credits scene. Afterward, Burnett took to Twitter to justify his actions and accused Kristian and Mark of being dishonest, teasing a potential feud for the upcoming season.
Schmoedown Throwdown and Subsequent Changes Edit
At the end of the event, a special video was shown with Harloff announcing the new plans for Season 6. Most notably, he stated that the show will take a subscription-format approach for the upcoming season.