Team Action was a villainous Movie Trivia Schmoedown tag team consisting of Andrew Ghai and Ben Bateman, which competed in Teams Division of Schmoedown.
Originally allies, Ghai and Bateman became partners as a result of their friendship and their villainous chemistry. The duo made their debut on 14 March 2017, where they faced Night Sisters and won the match via TKO. Subsequently, upon entering the 2017 Ultimate Team Schmoedown tournament, they went on a winning streak and were able to defeat teams with prominence amongst the league.
However, in 2018 the team appeared infrequently due to scheduling conflicts. Throughout the remainder of 2018, both competitors were involved in several highly promoted feuds and matches, as well as pursuing MTS Singles belt on their own.
Ultimately, the team split on 21 December 2018, after an assault from Ghai on Bateman, which also became Ghai's second physical altercation in the history of Schmoedown, having previously tackled John Rocha at Spectacular II.
Season 4
Edit
Team Action made their debut in the season on March 14, they faced off against the Night Sisters in the debut match and won by a TKO. After debuting as heels, they entered their next match against the Nerd's Watch as faces but after a difficult loss in sudden death, they quickly returned to their heel personas. Had they managed to defeat the Nerd's Watch they would have received a #1 contender match at 2017 Collider Collision. After their recent loss, they were looking for quick revenge and that opportunity presented itself against Late to the Party. Team Action scored a victory and qualified for the 2017 Ultimate Team Schmoedown tournament.
Ultimate Schmoedown 2017 Edit
Team Action was scheduled to play the Deep Cuts in the first round and after a victory there, they moved onto the former #1 contender team known as Team Trek. After an impressive showing that saw Team Action win by TKO, they were now in the semifinals. There awaited the former champions in Top 10 and a much-anticipated match in the tournament. The relative new Team Action managed to beat the veteran team of Top 10 in a close match and moved onto the tournament final.
Before the team finals were going to happen, the 2017 Singles tournament was also set to begin and Ben Bateman entered as a surprise entry in the five-way qualification match. Ben was fighting for the victory the whole game but ultimately lost to Jason Inman and was eliminated from the tournament before it even began. This gave Team Action a few weeks to try and get ready for their opponents in Above the Line in the team finals. The finals were another close match, but this way things didn't go as planned for Team Action as they lost the finals and didn't get the chance to compete for the titles at the 2017 Schmoedown Spectacular.
Fued with Top 10 and Schmoedown Spectacular Edit
Even though Team Action wasn't successful in winning the tournament they were given a match at the Spectacular and it was a rematch against Top 10 who they defeated in the semifinal. If Team Action were to defeat Top 10 they would receive a title match against the eventual winner of the team title match at Spectacular between the undefeated champions in the Patriots and tournament winners Above the Line and they would also have broken up on of the longest team in the Schmoedown history as Top 10 agreed to break-up if they lost to Team Action again. The match itself wasn't nearly as close as their first encounter were and Top 10 won by a TKO which saw Team Action lose their second #1 contender match in just one month. Team Action would also be forced to take a break for a few months after Andrew Ghai tackled John Rocha after their unfortunate defeat, which prohibited him from competing again for the next three months.
Bateman gave one of the best performances at the 2018 Free 4 All with lasting a whole six rounds and knocked out his nemesis John Rocha of Top 10 as his highlight of the event, with Ghai later returning at the event and challenging Rocha's stablemate Dan Murrell for a match.
Season 5
Edit
Live Event Controversy and Last Matches Edit
In their first match back this year, they faced off against DC Movie News and were sort of responsible for Mike Kalinowski going heel and creating KOrruption and after being able to come out with the victory they were set to play in another #1 contender match later that year. They were later scheduled to play the Shirewolves in #1 contender match in the second ever Schmoedown Live. Team Action ultimately lost the match after a lot of controversy surrounding Team Actions last question, nonetheless, Team Action lost their third #1 contender match in teams since November of last year.
Afterward, Team Action was set to appear during Ghai's entrance at 2018 Collider Collision for his match against Murrell, only for then-commissioner Thadd Williams to not allow Bateman to do so by accusing him of stealing Mark Reilly's dog Kal.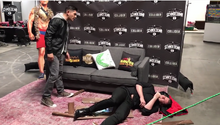 Despite losing to The Shirewolves, Bateman decided to stay with Reilly and part ways with Ghai. Upon telling Ghai the news face-to-face, Ghai reacted with a smile and he seemingly accepted Ben's decision and left Ben, only to come back and shockingly tackle him onto a table, igniting a feud between the two. Reilly and Tom quickly appeared and forced Ghai out of the premises with both comforting Ben, although Tom was still worried about his mask's status. This became Ghai's second physical altercations with a player, having previously tackled Rocha at Spectacular II, and injuring his back.
Season 6
Edit
Rivalry Match Edit
Despite their dissolution, Team Action is set to appear as individual opponents playing against each other, for the first time since their debut, after Ghai challenged his then-partner Bateman during their heated conversation at Spectacular III.
Team Matches
Edit
"Team Action"